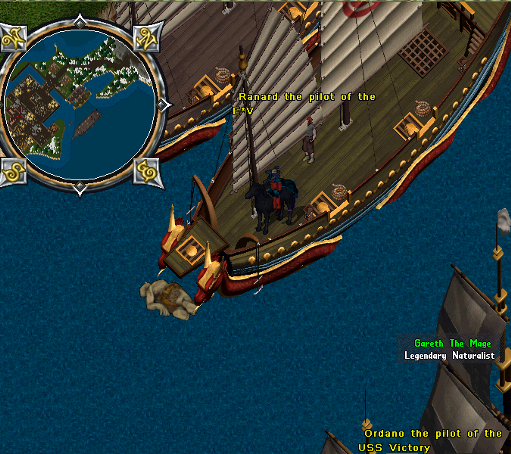 USS Victory Defeated! Cove Orc Fort
Thursday, February 23, 2012 By Merik/Gareth
The famous fishermen Lord Bishop E*V from the City of Kijustsu Anei Village found his vessel at the mercy of the USS Victory (Owner Unknown) and unable to maneuver around the perfectly positioned ship for a number of weeks, thus preventing him and his crew from enjoying fishing on the High Seas and delivering fishmonger orders on time.
Along side the E*V and in the same predicament was the Lady Rose UFO Fleet vessel from the Township of Area 51. Both ships were left with only a few options and one was unacceptable to them, and that was allowing the USS Victory to force them to cancel their current Fishmonger Quests and damage their standing.
Gareth the Mage and Janitor Pooper were contacted to assess the situation and determine if anything could be done. Gareth the Mage smiled at the crew of the E*V and ordered the Janitor to make the E*V and UFO Vessels shine for they would be departing into open water soon.

Later that night after the ships were given a good scrubbing…..twice Gareth the Mage returned and this time with the "Olmecian Cyclone of Tides" in his hand. With one quick flick of the wrist the USS Victory was tossed to the side like a toy boat, allowing the E*V and UFO vessel to depart and continue on their Fishmongering ways.