EM Drosselmeyer hosted the shards weekly meeting this past Sundays eve as players gathered for current events, info, and Q & A. Dross went on to announce a few upcoming dates for our enjoyment as the month of November shall play host to a Sons of the Seas sponsored fishing event seeking not only the largest but the grandest total amount of Grim Cisco and Winter Dragonfish. Winners will be honored at the Sons of the Sea in Trisnic following the events conclusion on 11/30/12.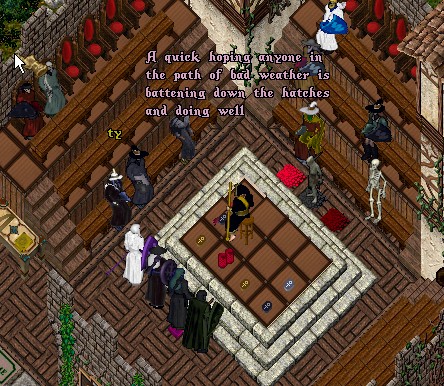 Also noteworthy was the commencement of the latest "static" event. Dross was offering tips and advice as the player poked him for every clue possible to aid them in thier journey. We even took a field trip to the quests starting location for hands on interaction to begin. Some of the tips still fresh from the source:
 – Info can be found in the pink books located at the HoC as well as the tavern in Serpents Hold.
 – It's very important to give one item only to each npc throughout the quest.
 – The quest must be done in order to complete, if you reach a point where the npc states he has no time for you then you have missed a section.
 – The difficulty is stated to be far less than that of the 6 path version previously done.
 – To complete the quest in it's entirety, one must reach the final area and take a screenshot of your character with it's name in full view and email it to [email protected]
  Q/A soon ensued as players inquired about moving or repairing the player city banners as well as placement of healers hut remaining from completed livery quests. Discussion over the fate of the previous events boss also rendered no clues to the quick disappearance of Scynthe. Depooty EM Ozog soon concluded the nights meeting as we set our sights on that field trip to Serps. Join us next Sunday for the next installment of the HoC at 9pm EST with gates from Luna!