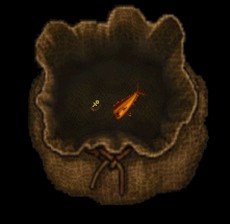 Rikuzaemon the old man was borne by the poultry carp fisher's house.
Even if his curiosity was very strong and it became an old man, there was the spirit of inquiry.
At last year,he succeeded in improvement of rare flying sort of carps and he released the carp to all river of tokuno.
He was satisfactory.
Someone spoke to him and he turned.
"Are you Rikuzaemon? I am bitterling god!"
Although Rikuzaemon was surprised at the silver hair old man of looks.
Since the old man was small, he felt easy.
And he answered,it's me.
"The carp took the nest of the my pritty bitterling.The carp is ferocious and eats anything.
Tokuno river becomes full of carps.
Would you exterminate a carp a little?"
Rikuzaemon laughed,he think he is bitterling fisher.
"What?
The carp whose better breed was developed differs from an ordinary carp. Excuse me,but I'm busy.Soon we'll have festival"
Silver hair old man swung down the cane. Then sky was dark and big thunder and lightning.
Carp streamer's piller broken.
"You need exterminate a carp a little at 3 days.If you dont it,you'll recieve punishment from gods,your doughter is scapegoat."
Sliver hair old man said him and left.
1.Koi(carp)Fishing Festival
*Your koi's date is 5/1 to 5/3.
*Don't make fish staek.You post koi for mailbox.
(Yamato,Sakura,Asuka,Hokuto,Wakoku,Izumo)
Mailbox near EM hole( 37o 53′N, 173o 48′E)
(Mizuho,Mugen)
Trammel cathle of blackson's post (9o 9′N, 11o 52′E)
*If your koi is small,EM returns a koi immediately.After the koi which won a prize puts in a name, it is returned.
You post koi with your public house rune,house have mailbox.
If no rune ,all koi go to dust box immdiately except winner to 3rd.
2.Supply of piller's materials
*dought(High quality or norlal, but no name)
*Horned leather
*Bola Ball
*Air Elemental scroll
*Cupper wire
Date
Yamato,Sakura,Asuka,Hokuto,Izumo
5/3( fri) pm 10:00 to pm 11:00 Jst
Mizuho,Wakoku,Mugen
5/3(fri pm 10:15 to pm 11:15 Jst
Place
Zento Bank