March's Treasure Hunt Challenge – Lake Superior vs. Legends
Kai Schober
29 Feb 2012 15:07:26 EST
   Having defeated the Purple Llamas of Great Lakes to open the 2012 Treasure Hunt season, the Gold Diggers received a well-earned break from action. Such rest is temporary, however, as they have been called upon by a new Challenger – Lake Superior shard!
It has been many years since the Legend shard's prejudicial past. But, one cannot forgive the way the people of this shard once looked down upon others simply for being different. It is unjust. It goes against the very Virtues that this game has tried to instill. In less than two weeks after UO: Renaissance was introduced, in May of 2000, the home shard of the Gold Diggers was formed. A shard…exclusively for AOL users. Bah!

      Lake Superior. One of the original four shards. A place of rights. Respect. A place where no man should be looked down upon, merely for his choice of ISP. We're the unmarred shard. We got the lakes that'll give you the quakes. Enough roleplay to fill Norway. And we've got the sublime rhyme that'd make a mime chime.

    For the good of Sosaria, no matter which shard of the Gem you reside, Lake Superior challenges the Gold Diggers of Legends. Your past as despicable AOL'ers is as inescapable as our future as the Cross Shard Treasure Hunt Champions.
Having been roused by this upstart, the team from Legends responded strongly: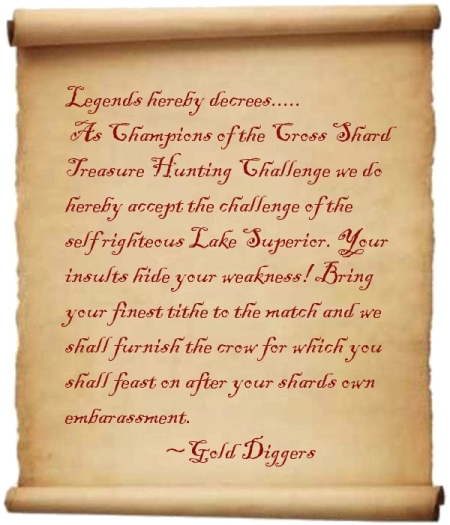 Will the deeds of the Lake Superior treasure hunters be as great as their professed ideals? Or will they join Great Lakes in a pit of foes vanquished by the Diggers? Find out Saturday, March 3rd as the Cross Shard Treasure Hunting Challenge continues!
---
Date: Saturday, March 3rd
Time: 8pm CST, 9pm EST
Place: Nujel'm Chessboard, Test Center Shard
Spectators are encouraged to come and cheer on their favorite team! Gates will be provided from the New Haven bank prior to and during the event.